Do you want...
a more spiritual experience?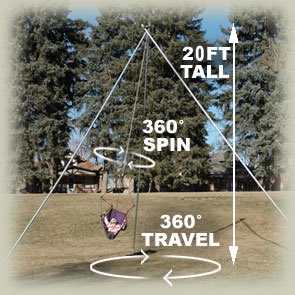 Do you remember the tire swing tied to a 100 foot oak tree in your grandmother's backyard?
You used to swing on it for hours with a youthful feeling that the world could not touch you.
Whether or not you have this memory, many of us long for our youthful days climbing and swinging from tall trees.
The Zen Swing® is a multi-axis suspendulum allowing for a swing path of 360º with 360º spin
in a swing arc of up to 6' of circular distance traveled.
The height from the ground to the top of the suspension frame is 18' tall
designed to support an assortment of approved, stylish canvas air chairs and other fabulous and collectible riding vehicles.

The standard size is field tested at 500 pounds of weight max.
The Zen Swing® takes you into instant sensational movement
generated by natural forces in the directions of Sacred Geometrical patterns
within the form of a pyramid producing tremendous positive benefits to body, mind and spirit.
This sensation connects you to the stillness & silence dwelling deep within your soul.
Time spent in this sensation improves methods brought about with deep meditation or labyrinth walk-abouts.
Rediscover a secret experience once known only to the ancients.
Activate inner peace and guidance from movement felt while swinging through the earth's gravity in the Zen Swing®.


"It's a ride and a journey into the very center of your soul.
Pyramid means "fire in the middle!"
Movement through this space creates a very enlightening and cleansing experience.
Come enjoy this movement… let the force take you away! "
Sincerely,
Be Be